Podcast Corner: The Key To Longevity? Functional Medicine Explained
I had the pleasure of hosting Dr. Jan Venter, functional medicine practitioner and Director of Healthcode Inc. in Vancouver, British Columbia.
Dr. Venter describes how one condition can have many different causes and how one cause can lead to many different conditions. The secret to functional medicine is that there's typically more than one factor that is causing chronic illness. Dr. Venter and his team aim to look at the whole picture to find those "blind spots" that may not be considered when attempting to reverse disease- environmental toxins, detoxification processes, sleep quality, exercise and vitamin levels (just to name a few!).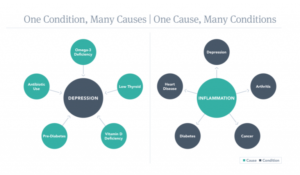 Image courtesy of The Institute of Functional Medicine
We also get into some interesting topics such as key supplements you should be taking to increase your longevity, blood markers specifically to study the brain and health tracking devices.
Check out the full recording here !
Long Weekend Recipe Idea!
Here I wanted to share with you a recipe that my family and I love to prepare during the hot summer months.
Vegan Burger Patties
Makes 23-24 patties 
3/4 cup ground flax seeds
1/3 cup warm water
2 cups toasted sunflowers seeds
4 cups rolled oats, processed into flour
4 tsp chili powder
4 tsp dried oregano
4 tsp ground cumin
4 tsp fine sea salt
Freshly ground black pepper
4 cups grated carrots
2 cups chopped onions
2 cloves garlic, chopped
4 cans (19 0z/540 mL each) black beans, drained and rinsed
Avocado oil
Combine ground flaxseed and warm water and set aside for 10 minutes or until thickened.
In a large mixing bowl, combine toasted sunflower seeds, oat flour, chili powder, dried oregano, ground cumin, sea salt and black pepper. Mix together and set aside.
Using a food processor, pulse together carrots, onions and garlic. Process or mash black beans into a paste, leaving a few beans intact; combine with vegetables and flaxseed mixture. Adjust seasonings to taste. Mix well until combined.
Using ½ cup measuring at a time, shape mixture into patties with slightly greased hands (using avocado oil). Place the patties on a parchment-lined baking sheets and freeze for at least an hour before grilling. Store remaining burgers in between parchment paper in resealable freezer bags.
When ready to cook, preheat grill to medium heat. Place burgers directly on grill and cook for about 10 minutes, flipping in between until lightly browned.TIP: These burgers freeze well; cook directly on a grill from frozen.
You can find more than 30+ plant based recipes in my latest book release. Click here to find out more!